Brake Repair
Land Rover Brake Repair Service & Coupons | Chesterfield, MO
Keeping the brakes of your luxury Land Rover SUV in peak condition is important in helping to ensure your safety and confidence anywhere your adventures take you. At Land Rover Chesterfield, we offer a complete range of brake services for all Land Rover models.
If it's time to have your Land Rover brakes serviced or you would like the peace of mind of having our expert technicians inspect your brakes, our team of service professionals can assist you. Scheduling services for your Land Rover is simple — you can scheduled service online or contact our team directly by calling us at (636) 777-5801.
Brake Repair Services
We offer a full range of brake services at our approved service center to help ensure your Land Rover delivers maximum stopping power both on- and off-road. You can find the intervals for your specific SUV with our digital owner manuals or by contacting our service team.
Brake Pad Replacement
Your brake pads are one of the more commonly replaced components of your brake system and work simultaneously with the brake rotors to create stopping power generated by friction. On select Land Rover models, the brake wear sensors provide an in-dash notification when your pads should be replaced. Other indications include unusual sounds or a decrease in braking performance.
Brake Rotor Replacement
Brake rotors are the disk-like components compressed between the pads that enable the creation of friction necessary to slow your vehicle. Indicators that it may be time to replace your rotors include abnormal vibrations or pulsation when applying the brakes or the appearance of grooves on the rotors.
Brake Component Repair
Additional brake components that should be checked and replaced according to your interval schedule or when necessary include brake fluid, calipers, shoes, hoses and lines, and your parking brake.
Common Signs of Brake Repair
There are several common signs that your brakes may need repair, though they are not exclusive to your brake system. We recommend treating these signs with high priority, should you ever experience them, and have your brakes promptly inspected by Land Rover technicians.
Sounds
Certain driving conditions, such as wet roads or off-road driving, and new brake components can produce unusual sounds such as grinding or squealing. If this happens and your brakes are often exposed to dirt and water or you're unsure of when you last had your brakes inspected, consider having your brakes checked by our technicians.
Performance
A decrease in stopping performance can be a clear indicator that it's time to have your brakes serviced. Aspects of decreased braking performance include the need to apply unusually light or hard pressure to the pedal, vibrations in the pedal or steering wheel, or the slight veering of your SUV toward a specific side of the road when applying the brakes.
Visual
The accumulation of brake dust on your wheel is normal. However, if the buildup of dust becomes abnormal or the buildup varies from wheel to wheel, it's recommended that you have your pads and rotors inspected. A decrease in pad thickness is another indicator that it's time for brake service.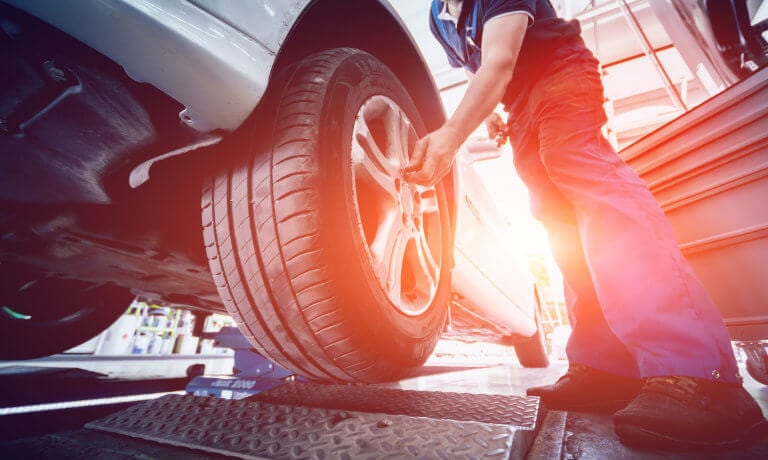 Benefits of Brake Repair at Land Rover Chesterfield
Our experts are dedicated to ensuring the utmost care for you and your Land Rover — you can be confident both will be in great hands at Land Rover Chesterfield. We use the latest diagnostic technology and tools to ensure your service is completed properly and in a timely manner.
Brake Repair Coupons
Explore opportunities to save on the next brake service for your Land Rover with our available coupons.
Schedule a Brake Repair Near Me
Ready to schedule brake service for your Land Rover? Our service team at Land Rover Chesterfield in Chesterfield, MO, can assist when you call us at (636) 777-5801.
How Can We Help?
* Indicates a required field